Happy New Year!!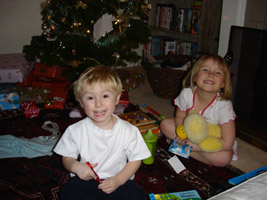 We are slowly getting back into the habit of updating our website. As my children grow up I spend more time looking after them than writing about them on here.!

"What's that? .... He's done what? .... He's got his head stuck where? ... Coming....(more later)
---
As its about a year since the last update - we have recently been doing about the same, well, the same the same shit as this time last year. We have the usual Le Mans pix - some blokes getting drunk and putting stuff on their heads.
---
Other less recent uploads include some pix of last summer's trips to Wales for top chum Ruth's 40th bash and one to the Cornish seaside, and we have the usual Le Mans pix from last year of some blokes getting drunk and putting stuff on their heads.

There is also a new copy of 'The Yorkist', my old school magazine. This one is from 1981 and joins the one we previously published from 1978. I have recently been sent a dozen more from a correspondent in the Midlands - so watch this space all you Old Boys from the 1960's and 1970's - the first issues should be available for review from about August.

Other recnt additions include Slim's poem about marriage. Written for friends, Pete & Verity's wedding, it ain't half bad - honest! And, there's also a recently new face (or should that read belly) on the 'show us your scars' pages.

There are also some pix of our new son, Alfie.

And did you know, Ayling is the 28,032nd most popular surname in the United States? If anyone knows what a 'percentile' is then they will be impressed to learn that CBN state that Ayling's percentile is 81.084. Eh, what? (If you do know what that means - please DO NOT mail me). Perhaps you're another Ayling! Take a look at some of the other Ayling sites we've come across around the net on our Aylinks page. If you are looking for someone else in the immediate family, you'll want the Ayling Family page.
---

We've also added a few new pix to the Chortle Zone and updated the gallery adding lots more new pix (although many were taken a while ago). Lots of pictures of friends, parties, the camper and stuff. Who knows there may even be one of you.

We are also still adding lots of pix of Little Miss Lily and her friends.

Not that we are complete drunkards, but you can read about some of our regular pub crawls including the Circle Line Experience, the Millennium Pub Crawl or the Station 2 station Pub Crawl.

Next we have the now infamous Jabberwocky quiz. The first one, the 80's lyrics quiz (which we didn't write) was so well received that we've added a second one (which we did write). The new film quiz has lots of lines from famous films, "We're on a mission from God", "Tomorrow is another day", that sort of thing. It's fun - try it. For those of you who have recently sent answers - please bear with us we will reply soon.

DYRMS was my old school - The Duke of York's Royal Military School in Dover. Unless you went there you'll probably find those pages a little dull. Even if you did go there you may find them a little dull too!

Then we've got a whole stack of Fun Stuff. Lesley's Joke of the Week, a few amusing pictures, funny emails we've been sent, that sort of thing. It also has a bit of bumpf about where the Jabberwocky name came from.

Perhaps you are a Charlton fan, or equally as gruesome, you might want to take a look at the recently added (and long awaited)' Show us Your Scars' section. Not for everyone's taste, I'll agree.

And finally, you can either sign our guestbook or visit the ubiquitous links page to other sites we like (although this is looking a bit sad these days - something else I must get round too!)
---

See what's on the site by taking a look at the site map (although it is a bit out of date - must get round to that) or see what you missed in previous issues.

Well that's it for now. If you've got anything to say/post/add - drop us a line to:
webmaster at jabberwocky (dot) co (dot) uk .